ROSE N. BICKERSTAFF, REALTOR®
Senior Consultant
Multi-Million Dollar Member
Residential-Commercial-Exchanges
Tel: 650.967.2499
DD: 650.283.4378
Fax: 650.323.4582
Email: rb1014@aol.com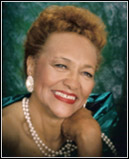 Professional Experience
Nearly 30 years experience in all aspects of real estate, including single-family and multi-unit residential, commercial, property management, and consulting. I have had much success with many creative commercial and large unit transactions. Management/ Customer Service for a Retail chain, managing a large staff and handling complaints.
Education
Degree in Accounting, Business Administration.
Professional Philosophy
I am committed to providing high quality service to my clients, with the highest possible level of integrity.
Professional Affiliations
Multiple Listing Service, National Association of Realtors®, California Association of Realtors®, Silicon Valley Association of Realtors®, MIllion-Dollar Member
Personal Background\
Rose has been a long-time resident of Menlo Park. She is part of a Foundation for Senior Housing and Development, has formed a scholarship fund for mentoring and assisting students, and is associated with American Cancer Society and American Diabetes Association. Rose works with San Mateo County in the area of Community Development. She enjoys creative design!
Testimonials
"I felt that you cared and took the time to find out first, my needs. I always thought a larger company was better until I had my first listing experience." -- Al. C., Atherton Seller/Buyer
"You were very patient with us, and gave your honest opinion about the property we were thinking of buying, which proved to be an important opinion. We have no regrets!" -- DB & PB., Belmont Buyer
"There is no one else I call when we have real estate needs. Thank you!" -- M. I., E. Palo Alto Buyer and Menlo Park Buyer